Illustrators generally get paid to work on projects. This means taking someone else's vision, story, or text and bringing it to life in pictures. Doing so requires special talent as the illustrator must listen to and absorb someone else's ideas before creating their accompanying artwork. Mark Crilley is a talented and experienced illustrator who got the chance to find out what would happen if he pitched a book that contained illustrations that didn't follow a specific theme, a book about illustrations without being a how-to book, a book about the art. We all benefit because Watson-Guptill Publications accepted that proposal.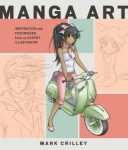 Mark Crilley's Manga Art: Inspiration and Techniques from an Expert Illustrator is a beautiful and fun jaunt through Crilley's imagination. The art contained in the book is diverse and masterfully created. There is no storyline. There is no plot. There are no editors or committees. This is a book created "in an atmosphere of complete artistic freedom." It works.
The book is arranged in five sections, an organizational scheme that seems likely to have been imposed after most of the illustrations were created. The sections each contain a set of illustrations that fit a general theme, grouping together sketches and full-color illustrations of characters, Japan, science fiction, conceptual art, and styleplay. Each illustration includes interesting comments from Crilley describing the art. These sometimes focus on the craft of creating the piece, sometimes on a thought or experience that influenced the image or sparked its creation. Occasionally there is a cool "Your Turn" tip connected to an illustration to help the reader think about ways to enhance their own creations.
This is a fun, interesting, enjoyable, and inspiring book that makes me want to walk away from my computer and pick up some art supplies.
Disclosure: I was given my copy of this book by the publisher as a review copy. See also: Are All Book Reviews Positive?