Just in time for the end of the year holidays…
I have a new edition of Ubuntu Unleashed 2015 Edition (affiliate link), now available for preorder. This book is intended for intermediate to advanced users.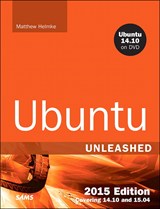 I also failed to mention on this blog the newest edition of The Official Ubuntu Book (another affiliate link), now in its eighth edition. The book continues to serve as a quality introduction for newcomers to Ubuntu, both the software and the community that surrounds it.