I recently bought a new computer from System76 with Ubuntu pre-installed, because I want to support companies who are supportive of Free and Open Source Software. This was my experience.
Before I ordered the machine, I spent some time reading several pages of questions and answers from their support forum, housed at the official Ubuntu Forums. A quick disclaimer: I am an administrator for the Ubuntu Forums.
Later, I emailed their support team with several questions. They responded quickly and answered every one to my satisfaction.
I also compared configurations and prices with several other Linux pre-installed retailers such as Dell, ZaReason, Los Alamos, and R Cubed, each of whom offer products I think look good. In the end, I liked the price and performance specs of System76's Pangolin Performance best, and decided to order it.
Of course, I was not content with the default configuration, even though it looked quite nice, so I bumped up the specs a bit. Here are the details, including the price paid.
System76 Pangolin Performance (PAN-P4) = $1,049.00
Bluetooth
Display Resolution 15.4″ WSXGA+ Super Clear Glossy LCD (1680 x 1050)
Video Card nVidia GeForce 9300M GS 256MB DDR2
Hard Drive 320 GB 7200 RPM SATA II
Hardware Warranty 1 Yr. Ltd. Warranty and Technical Support
Memory 4 GB – DDR2 800 MHz – 2 DIMMs
Operating System Ubuntu 8.10 (Intrepid Ibex) 64 Bit Linux
Optical Drive CD-RW / DVD-RW
Processor Core 2 Duo T5800 2.0 GHz 800 MHz FSB 2 MB L2 (35 Watt)
Gigabit LAN (10/100/1000)
Wireless Intel Wi-Fi Link 5100 – 802.11A/B/G/N Up to 300 Mbps
Built-In Webcam
The computer was delayed a little. I emailed to ask what was going on and was answered within the hour with details. After a few days, I was given an apology for further delay and a free shipping upgrade to the next quicker option. That was nice, and the communication was very well appreciated.
When the system arrived, it was well packaged and everything arrived in perfect condition. All the cables and such were there. In all, the shipment included the laptop itself, with battery, an AC adapter, a telephone/modem cord, a Windows-focused manual that came from the whitebox manufacturer (Clevo, I believe), two nicely produced documentation sheets from System76 for getting things up and running and learning how to use the laptop's features within Ubuntu, and a nifty polishing cloth for cleaning the glossy screen and shell.
The colorful sheet to the right of the picture includes a simple three step process for getting started. First, you plug the system in and turn it on. Second, once the computer boots into an OEM install of Ubuntu, you create your main user account. Third, you enjoy your system. The back side of the sheet includes instructions for installing a special driver package that System76 provides to ensure that you get the full hardware capability of your laptop. The process was quick and painless.
Here we are, up and running. I like to put clear adhesive backed plastic (that's shelf paper, for you Americans) on either side of the touchpad on my laptops, as I have been known to wear through the finish on them in the past. This also gives me a place to put my Ubuntu business card with my contact info.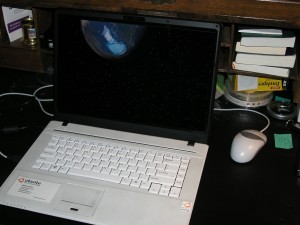 I am pleased to report that following these instructions results in a computer that "just works." The 3D graphics, including Ubuntu's fun Compiz visual effects, the video camera, Bluetooth, wireless internet, suspend, hibernate… In fact, everything I have tested works with no configuration needed, other than to personalize the experience! Now, I haven't used the fingerprint reader, and have no plan to do so, so I should caution readers that I don't know whether it works or not.
*EDIT: I just discovered that the System76 driver bundle includes everything necessary for the fingerprint reader to work, tested it, and can confirm it works beautifully. Wow!
I was concerned at first since the computer came with the 64-bit version of Ubuntu, and I have only used the 32-bit version in the past after having trouble with the 64-bit version in a much earlier release a couple years ago. I have had no problems doing anything with it that I wanted to do.
In short, I have built my own computers in the past, bought Windows computers pre-built and installed Ubuntu over or alongside that OS, and bought an Ubuntu pre-installed computer from Dell for my wife. Each method has its benefits. However, I have to say that this was the easiest and most enjoyable experience I have had.