When I made my guitar post, I promised to put up a picture of my custom, home-built tube amp. Here you go! Details below.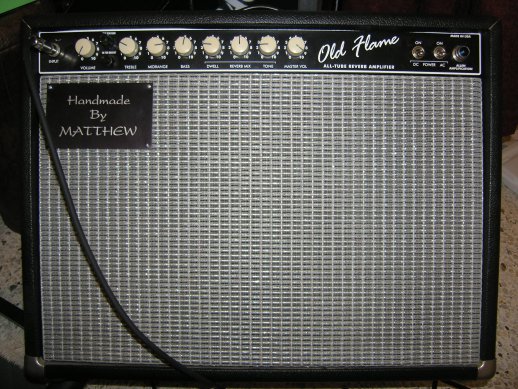 The amp started as a kit from Allen Amps and I built it at the end of 1999. It has since undergone a small amount of modification. The valve complement includes one 5U4G rectifier, two 6L6GC power tubes, and two 12AX7s plus two 12AT7s in the preamp and reverb circuits. The sound comes from two 10 inch Jensen C10Q speakers.
I know the real question is "How does it sound?" Think of a vintage Fender Vibrolux, without the vibrato and with no normal channel. Then add the reverb circuit from the old Fender stand alone reverb head from the 1960s. Finally, modify the preamp slightly to give it a bit of the tweed 4×10 Bassman feel, and you will be pretty close. Oh, except this amp is quieter…there is still some hiss, but very little.
Words are cheap, though. Here are a few mp3s. Let me know what you think…they were recorded about 7 years ago and the recordings aren't perfect, but they are good enough for you to catch the feel and tone of the amp, and that is what I was going for at the time. Note: these are all played with my Tele (the one that you saw in the other post) plugged straight into the amp with no outside effects. All I did was change the settings on the amp.
Amazing Grace
Satisfaction Plus
And there's one more, from a day when I was doing some recording and discovered there was about 3 minutes of tape left at the end of a project. Instead of wasting the tape, I decided to play around a little. This one has two tracks instead of just one.
I performed, recorded, and own the copyright for all of these clips, and I hearby release them into the wild with a Creative Commons license (by-nc-sa-3.0). Enjoy. If you use them for anything, I would love a "heads up."